Jeremy & Lindsey Haas
Certified Master Negotiator, Seller Representative Specialist, Buyer Specialist, Home Stager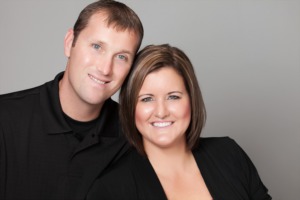 Lindsey Haas as been a full time licensed Realtor since 2006.  Working with both buyers and seller of all price ranges in the North Metro Atlanta market she is ranked in the top 7 of 9,800 agents in the 7 counties she serves. Lindsey and her husband Jeremy are both full time in real estate.  Jeremy joined the Lindsey leaving the corporate world behind in 2012.  Working hard to exceed expectations, they strive to have CLIENTS FOR LIFE!  They work mostly by referral and repeat business and their production proves they provide the best in service and results for their clients. 
Selling about 100 homes a year together they are a power house team when the average agent sells just 11 homes a year.  Lindsey Haas is  Certified Master Negotiatior and trained at a high level to help her clients succeed with their most precious asset.  She is a skilled home stager, home renovator and a skilled expert in real estate marketing, doing more marketing for her listings than any of her competition.  She is detail oriented and a master at contract writing, negotiations and process management. Jeremy is experience in home renovations, finding problems in homes, repair & upgrade ideas and in finding homes for their clients.  He truly pays attention to the features that buyers want and works hard to find the right homes.  The teams skilled attention to logistics and efficiency creates a seamless process for both buyers and sellers when it comes to their real estate transactions. 
-Team Lead 
-Certified Master Negotiator
-Seller Representative Specialist
-Buyer Specialist
-Real Estate Contract Expert
-Multiple Offer Contract Strategist
-Skilled Home Stager, Owner of a Staging Warehouse & Moving Truck
-Experience Home Flipper & Renovator
-Master's of Science in Business Management
-Bachelor's Degree in Marketing
-Member of the International Swimming Hall of Fame
-Past Division 1 Collegiate Swimmer
Call Lindsey Haas to talk about your real estate buying dreams and selling goals.  Our consultations are free and packed full of information to help you navigate the best decision for your family. 

Lindsey Haas, Realtor
Top 1% in North Metro Atlanta 
Direct:  678-933-1962
Office: 770-880-8029
Email: [email protected]


Testimonials
If you're looking for a PROfessional realty team, you won't go wrong with Lindsey and her team of hardworking pros. Lindsey is experienced, knowledgeable and is on YOUR side. She will coach you through the process and be your cheerleader too. Her techniques maximize your home sale price and get your home sold quickly. I cannot recommend her highly enough! Her team is 100% "do the right thing" and "gitter done". Follow Lindsey's sage advice and work with her team of professional contractors to prep your home, and you won't go wrong. Lindsey was also super supportive in the build process and purchase of our new home. She helped with negotiations and documentation and with all the issues we never thought of. Look no further - you've found your real estate team!
Stacey H
I had the opportunity to work with Lindsey when my clients were selling their home and I was helping them purchase. She is a very courteous and timely professional who kept us informed the entire process. I hope we get to work together again soon!
Luke Yanders
We worked with Lindsey and her group to find a home for us in GA. We were moving from TN and had little knowledge of the area other then Kennesaw where we had friends. Lindsey and her group were always available when we came into GA to show us around. They were knowledgeable and discerning about the various properties to find us the perfect home. My husband and I were very pleased with Lindsey's thoroughness and knowledge in preparing our offer. Her care in presentation and negotiation is unprecedented, in our opinion she is a master negotiator. Lindsey is the ideal in professionalism. I recommend her to all who are looking to buy or sell there home. She truly is the best in the business.
Sara Luecke
I was given a shortlist of recommended realtors to look at and while all of them had great reviews, Lindsey and her team had the most by far. The sheer volume of people with rave reviews gave me the confidence that she was the real deal. Lindsey and her entire team were always very on top of the ball and didn't mind the zillion questions we had since it was our first time looking to purchase a home. Lindsey was very responsive, supportive, and a pleasure to work with every step of the way.
Annie Brady
I found Lindsey through Zillow and didn't know anyone in the area because I live in Miami and my home was in Canton, GA. I could not have asked for a more perfect real estate agent. She started
off with professionalism in helping us know what we should and shouldn't do and when to do it. Within one week of showing the property (which she spent many hours doing preparation), we had two offers. Everything including inspections, appraisals and the closing went smoothly. Her assistant was helpful and efficient. The Haas team performs above and beyond what I expected!
Joy Intriago
More Testimonials